54 West
48 West 14 Mile Rd
Clawson, Michigan 48017
Wednesdays, 7pm & 8pm
(248) 632-1467
Wednesday
7pm & 8pm
Cancelled (COVID)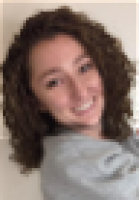 Host: Rachel
Hosting since Jan 2020
See full bio
Full-time engineer, part-time trivia host. When I'm not working or attending/hosting trivia nights, I am typically out enjoying food, beer, or having a movie night with my dogs.
Other venues Rachel hosts
Sporcle's classic pub trivia game with hour-long games combines general knowledge with strategy.
Most Recent Final Questions
Game 1
China and the United States occupy five of the top ten spots on the Fortune Global 500 list of 2020. Name two of the other five countries that are represented by a single company each, all of which have annual revenue of at least $275 billion.
Show Answers
Netherlands
Saudi Arabia
United Kingdom
Germany
Japan
Game 2
There are five TV series that have the word "Love" or "Loves" in their titles that have been nominated for the Primetime Emmy Award for either Outstanding Drama Series or Outstanding Comedy Series. Name three of those five series.
Show Answers
Big Love
I Love Lucy
Love, American Style
Love, Sidney
Everybody Loves Raymond
Wednesday Scoreboard
<
Offseason Week: 16: Sep 21 - Sep 27
>
Team Name
Score
No scores to show for the dates selected at this time.
Current as of
9:07pm EST Sep 28, 2020
Prizes Every Show
1st Place in Each Round - $15 Gift Card
2nd Place in Each Round - $10 Gift Card
State Prizes
The Winter/Spring 2020 season awards a total prize pool of $5,000 at the State Championships on June 20, 2020