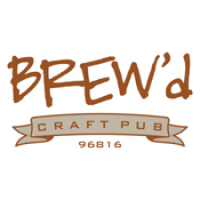 BREW'd Craft Pub (Every 3rd Monday)
3441 Waiʻalae Ave Unit A
Honolulu, Hawaii 96816
Monday
8pm & 9pm
Cancelled (COVID)
Sporcle's classic pub trivia game with hour-long games combines general knowledge with strategy.
Prizes Every Show
Prizes - Money off tab to the top team(s)
Most Recent Final Questions
Game 1
What is the sum of all prime numbers between 50 and 70?
Show Answers
240
Game 2
In the decade of the 2010s, three different actors won the Primetime Emmy Award for Outstanding Lead Actor in a Comedy Series in consecutive years. Name one of those three actors.
Show Answers
Bill Hader
Jeffrey Tambor
Jim Parsons
Monday Scoreboard
<
Scores for Feb 17, 2020
>
Current as of
1:07am EST Jun 24, 2021