Harry Buffalo Westerville
6150 Sunbury Way
Westerville, Ohio 43081
Tuesdays, 8pm & 9pm
(614) 794-1600
Tuesday
8pm & 9pm
Starting: Aug. 4, 2020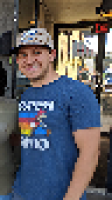 Host: Mario
Hosting since Jan 2018
See full bio
Born into a tenacious clan of trivia titans, Mario has made his way to the summit of the arena as gamemaster. After earning some B.S. in Aerospace Engineering, he is hoping players can share in some fun that isn't quite rocket science. Nintendo foretold in '64 that his show would be Super.
Sporcle's classic pub trivia game with hour-long games combines general knowledge with strategy.
Most Recent Final Questions
Game 1
Wife and husband astronomers Carolyn and Eugene, as well as a third astronomer named David, are the namesakes of what comet that they co-discovered in 1993?
Show Answers
Shoemaker-Levy 9
Game 2
Among the songs on "Weird Al" Yankovic's self-titled 1983 studio album is a track on which John Deacon shares a writing credit. Give EITHER the title of Yankovic's parody OR the title of the original song.
Show Answers
"Another One Rides the Bus"
"Another One Bites the Dust"
Tuesday Scoreboard
<
Offseason Week: 9: Jul 27 - Aug 2
>
Team Name
Score
No scores to show for the dates selected at this time.
Current as of
7:07am EST Aug 03, 2020
Prizes Every Show
1st Place in Each Round - $20 Gift Card
2nd Place in Each Round - $10 Gift Card
3rd Place in Each Round - $5 Gift Card
State Prizes
The Winter/Spring 2020 season awards a total prize pool of $5,000 at the State Championships on June 20, 2020