Harry Buffalo Westerville
6150 Sunbury Way
Westerville, Ohio 43081
Tuesdays, 7pm & 8pm
(614) 794-1600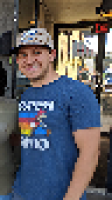 Host: Mario
Hosting since Jan 2018
See full bio
Born into a tenacious clan of trivia titans, Mario has made his way to the summit of the arena as gamemaster. After earning some B.S. in Aerospace Engineering, he is hoping players can share in some fun that isn't quite rocket science. Nintendo foretold in '64 that his show would be Super.
Sporcle's classic pub trivia game with hour-long games combines general knowledge with strategy.
Prizes Every Show
1st Place in Each Round - $20 Gift Card
2nd Place in Each Round - $10 Gift Card
3rd Place in Each Round - $5 Gift Card
Most Recent Final Questions
Game 1
What location, notably associated with an April 1861 event, is named for a Revolutionary War brigadier general whose fighting style earned him the nickname "Carolina Gamecock"?
Show Answers
Fort Sumter
Game 2
Give the names for both an adult male swan and an adult female swan. Both words are three letters long.
Show Answers
Cob
Pen
Tuesday Scoreboard
<
Scores for Jun 15, 2021
>
Current as of
6:07pm EST Jun 18, 2021
Hall of Fame
15,000 total points earned at this show