Amelia's
724 E Layton Ave
Milwaukee, Wisconsin 53207
(414) 483-0345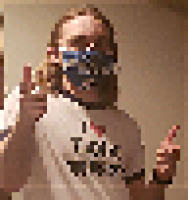 Host: Greg
Hosting since Jan 2022
See full bio
Greg doesn't have a bio yet! Check back soon.
Other venues Greg hosts
Our classic pub quiz game features wagering, audio, and visual rounds. We play it twice per night at each location to double the odds of winning.
Most Recent Final Questions
Game 1
In 2004, Ben Affleck was awarded the Golden Raspberry (Razzie) Award for Worst Actor for his roles in three films released the previous year. Name two of those three films, all of which have one-word titles.
Show Answers
Paycheck
Daredevil
Gigli
Game 2
Among the five Merrie Melodies and Looney Tunes cartoons that won the Academy Award for Best Short Subject (Cartoon), three of them feature what character? The titles of those cartoons are Tweetie Pie, Speedy Gonzales, and Birds Anonymous.
Show Answers
Sylvester the Cat
Monday Quiz Night Leaderboard
<
Scores for Sep 26, 2022
>
Current as of
6:07pm EST Oct 03, 2022
Let us know if the venue page needs updating!