(Last Updated On: February 7, 2020)
Parks and Recreation had all the makings of a great TV sitcom. From an ensemble comedy cast and witty writing, to plenty of waffles and a miniature horse, the show certainly made the most of the 7 seasons it was on the air. And though it ended its run back in 2015, fans today seem to love the mockumentary series more than ever. I mean, who doesn't stop to watch Parks and Rec reruns when they come across them on TV? With so many great moments, memorable catchphrases, and hilarious characters, you should have no problem thinking of a few Parks and Recreation trivia team names at your next pub trivia show (perhaps a Sporcle Live theme night?). But if you need a little inspiration, how about checking out a few of our favorites.
Here Are the 20 Best Parks and Recreation Trivia Team Names
1. Quiz Yo' Self
Clothes. Treat yo' self.
Fragrances. Treat yo' self.
Massages. Treat yo' self.
Mimosas. Treat yo' self.
Fine leather goods. Treat yo' self.
Pub Trivia. Quiz yo' self.
2. I'm Perd Hapley and This Is Our Trivia Team
Perderick L. Hapley is a Pawnee television journalist and host of various television news programs. Among his many awkward tendencies is his penchant for stating the obvious. Here are a few Perd Hapley quotes:

"There are some statistics and they are numbers."
"A slogan is a series of words that have a meaning."
"Issue number one is the first issue we're going to talk about."
"The statement this reporter has, is a question."
3. Jamm Orthodontia (You got Jammed!)
Jamm Orthodontia is the dentist office owned by Jeremy Jamm, D.D.S. Jeremy also happens to be a City Council member in Pawnee, Indiana, and one of Leslie Knope's biggest rivals. If you pick this Parks and Rec trivia team name, make sure to yell Jeremy's catchphrase, "You got Jammed!", each time you get a question right.
4. The Very Good Building & Development Co.
The Very Good Building & Development Co. was a construction company owned by Ron Swanson after he quit the Parks Department. We can assume Ron's company worked on building and development projects, and did a very good job at them.
5. Entertainment 720
What do you get when wannabe moguls Tom Haverford and Jean-Ralphio team up to create a business? Entertainment 720, a "premiere, high-end, all-media entertainment conglomerate." Sure, they lacked a business plan, serious leadership, and revenue streams, but you can never kill an idea. The company might have gone under, but keep its spirit alive with this team name.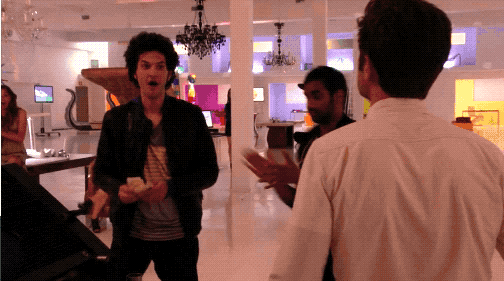 6. The Beautiful, Talented, Brilliant, Powerful Musk-oxen
Cheerful, ambitious, hard-working and optimistic; Leslie Knope undoubtedly knows how to make someone feel special, often going above and beyond for the benefit of Pawnee's residents. She's also a great friend who never shies away from paying a compliment – and often strange compliments at that. Of her best friend Ann Perkins, Leslie once said:

"Ann, you are such a good friend, you're a beautiful, talented, brilliant, powerful musk-ox. Thank you, ox."
7. Dammit Jerry!
"Dammit Jerry!" is a catchphrase from the show that is used to express disappointment, annoyance, frustration, or disbelief at Garry "Jerry" Gergich and all the dumb things he does. The nice thing about this phrase is that it doubles as both a trivia team name, and something you can shout at random times at your next Parks and Rec trivia night, like when you get a question wrong or if your friend Dave eats all the nachos. "Dammit Jerry!"
8. Just Give Me All the Bacon and Eggs You Have
Ron Swanson: "This isn't a steak. Why would you call it that on your menu?"
Waiter: "I don't know what to tell you, man."
Ron Swanson: "Just give me all the bacon and eggs you have… Wait. Wait…I'm worried what you just heard was give me a lot of bacon and eggs. What I said was give me all the bacon and eggs you have. Do you understand?"
9. Pawnee Library Association
If you pick this Parks and Recreation trivia team name, get prepared for some boos. The good folks over at the Parks Department hate the library, and aren't afraid to say it.

Leslie sums up her dislike in these two great quotes:

"Pawnee's library department is the most diabolical ruthless bunch of bureaucrats I've ever seen. They're like a biker gang. But instead of shotguns and crystal meth, they use political savvy… and shushing."

"The library is the worst group of people ever assembled in history. They're mean, conniving, rude, and extremely well-read, which makes them dangerous."
10. This is Literally Chris Traeger's Favorite Team
Chris Traeger is the Indiana State Auditor turned Pawnee City Manager. He is positive, upbeat, energetic, and very health conscious. He also has the annoying habit of stating that things are literally the best or greatest he's ever seen or done. Let's just hope your trivia host puts extra emphasis on the "Literally" part.
11. Li'l Sebastian's Tribute Team
Up in horsey heaven, here's the thing
You trade your legs for angels wings
And once we've all said good-bye
You take a running leap and you learn to fly
Bye bye Li'l Sebastian
Miss you in the saddest fashion
Bye bye Li'l Sebastian
You're 5000 candles in the wind.
12. Jerry Larry Garry Terry
"Dammit Jerry!" Why are you in this list again! And why do you have so many names?
13. The Pawnee Rangers (or The Pawnee Goddesses or The Swansons)
The Pawnee Rangers are scouting group led by Ron Swanson, with Andy Dwyer as his assistant. Upset that only boys can be Rangers, Leslie sets out to create her own group, the girls-only Pawnee Goddesses. Of course, Leslie is determined to have the better group of scouts, which ultimately saddens Ron. To make him feel better, she proposes a new boys and girls survivalist group, The Swansons.
14. The Perd-verts
Remember journalist Perd Hapley? Remember how he hosts various news shows? Well, Perd has a new segment he wants everyone to know about. It's called, "Are You There, Perd-verts? It's Me Perd, Hosting a New Segment".
15. Eagleton Sucks
Eagleton, Indiana, is Pawnee's more prosperous neighbor city. It was founded shortly after Pawnee was, when some of the more wealthy citizens decided to leave town and found a new one. Leslie describes Eagleton as a "land of rich, snobby jerks." Do you hate Eagleton as much as everyone else does? If so, this might be the trivia team name for you.
16. Everybody Pants Now (pants…pants, pants, pants, pants)
Taken from the drunken mutterings of Leslie Knope, and sung to the tune of C+C Music Factory's "Gonna Make You Sweat (Everybody Dance Now)", this quote seems to make no sense and total sense all at once. Feel free to bust into song at any time if you go with this name.
17. We Have a Permit
Park Ranger: "Hey Ron, you're not going to slaughter that pig here are yah?"
Ron Swanson: "Not to worry, I have a permit."
Park Ranger: "This just says 'I can do what I want'."
Ron Swanson: "I am the Director of the Parks Department and this is a park."
Park Ranger: "It's not a parks thing. It's against like three laws and a dozen health codes."
18. Friends, Waffles, Work
One thing we can be sure of is that Leslie really has her priorities in order.

19. Duke Silver
Duke Silver is the smooth, mysterious, tenor-sax-playing Jazz musician that is known to play at Cozy's Bar in Eagleton, Indiana, on the second Thursday of every month. Who is that moustached man in the trilby hat and suit jacket, swooning middle-aged women with his terrific tunes? If you have two other teammates, you can also opt for "Duke Silver Trio" as your team name.
20. The Cones of Dunshire
Ben Wyatt created the board game, The Cones of Dunshire, while in between jobs. The game itself involves many characters and confusing rules. In fact, the rules are so hard to understand that Ben ultimately convinces himself that the game is trash. However, his friends at the accounting firm give it a play and come to love it, eventually copyrighting the game in Ben's name – an act that helps Ben later in the series.
---
Did you like these Parks and Recreation trivia team names? Need even more inspiration for your next pub trivia night? Check out our many other articles on Trivia Team Names.
Comments
comments